Background
SPADE is a powerful tool for the representation of an entire dataset as a two-dimensional clustered tree. This article overviews how to analyze a completed SPADE analysis and work with the tree visualization.
Click the links below to jump to the relevant section in this article:
Tree Visualization Controls
Discussion on SPADE Tree Structure
SPADE Tree structure is stochastic but results are consistent
Configure Global / Local Coloring Range and Symmetry
There are two components to setting the coloring range of the SPADE tree, which is shown in the top left of the SPADE interface.

Coloring Range (called "Scale Range" in the SPADE interface) can be set to Global or Local. In global mode, the range of the color bar is standardized across all files. In local mode, the range of the color bar is tailored to the file being currently viewed. In both cases, the minimum and maximum bounds of the color bar are set to be the 2nd and 98th percentile values in the channel being analyzed, but the scope of the data from which these percentile values are drawn changes depending on the global/local setting. Global is recommended in most cases since local scaling can be misleading when comparing multiple samples to each other.
At this time, the coloring range cannot be set manually by the researcher.
Coloring Range Symmetry (called "Scale Symmetry" in the SPADE interface) can be set to Asymmetric or Symmetric. In asymmetric mode, the range of the color bar will be set as defined directly above by the 2nd and 98th percentile. In symmetric mode, the color bar min and max will be set to the same value in the positive and negative, depending on which the greater of the absolute values of the 2nd and 98th percentile. Asymmetric is generally recommended.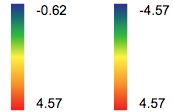 (asymmetric versus symmetric color bar range)