The Experiment summary page is an integration point for information about your experiment. It contains details and information such as:
How to access the Experiment summary page
The Experiment summary page is also where components of the experiment, such as dimensionality reduction, clustering, and CITRUS analyses, can be deleted or downloaded.
The Experiment summary page can be reached at any time from within an experiment by clicking on Actions > View Summary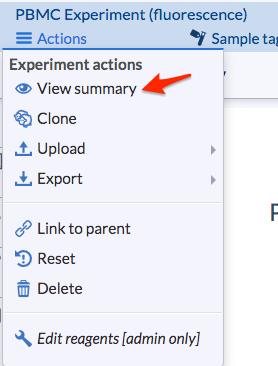 Or by clicking on the Experiment name and then View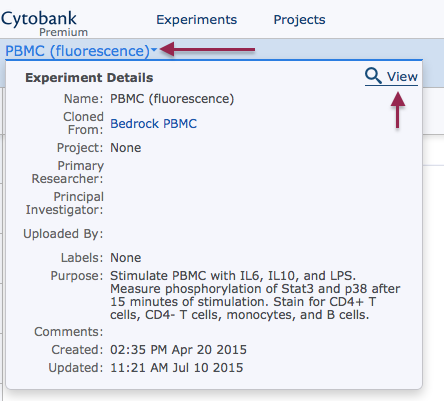 Or just click on the experiment in the Experiment Manager, the expanded detail view that has the snapshot of the Experiment summary page will show in the right panel.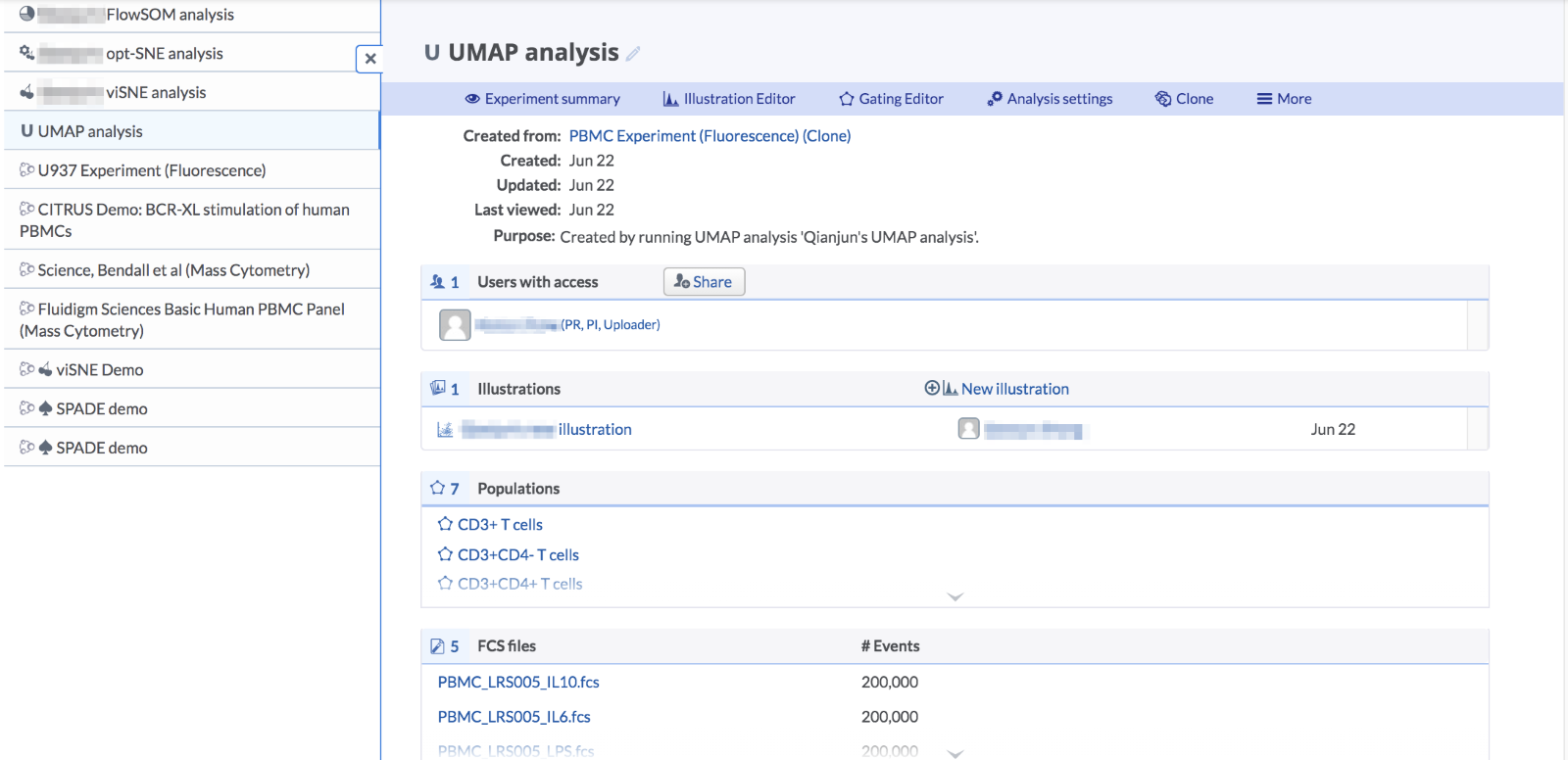 Name, creation date, project membership, purpose and comments
On the very top is basic information about the experiment, such as experiment name, creation date, project membership, purpose, and comments. Most of the information can be edited by clicking on the text or the Edit details tab on the top. Some of the basic facts cannot be edited such as the "cloned from" experiment, and the uploader, creation date and updated date.

Linked experiments shows all linked experiments and all the advanced analyses. CITRUS analysis will not be shown on the linked experiments tree, but any exported CITRUS experiments will be displayed.

List of saved illustrations and advanced analyses (All dimensionality reduction, clustering and CITRUS runs)
It will list all your saved illustrations and advanced analyses. You can create a new illustration by hitting the New button. You can also delete them by clicking on the trash icon or clicking the Delete all of your illustrations button to delete all of your illustrations. You can also initiate an algorithm analysis by hitting New button next to the advanced analyses. Please be careful, as deleted analyses can't be recovered.

List of uploaded and exported attachments
In the Attachments section, you will see a list of uploaded and exported attachments. You can attach any data using the Upload an attachment button. Please see this article for more ways of uploading any data types in Cytobank. Attachments can be downloaded by clicking the file icon located under the Download/View heading.

You can attach a protocol by either uploading a file, entering a URL or typing text into the protocols section.

List of the FCS files in the experiment and relevant metadata
The last section of the Experiment Summary page lists the FCS files. Event counts and size of each file will be listed, as well as the Sample Tags. You can also click on the eye icon to view the details of the FCS file, where you will see the basic info of the FCS and the list of keywords. There is also an FCS File diagnostic section. Any warning with that FCS file will be shown there. You can find more information on the FCS file QC in this support article.