Remember that a gate is tied to a compensation matrix, channel selection, and scale settings, and is visible only when they are set accordingly.  Gates must be applied before they will show in the Illustration. Please click on Apply or Apply and return in the Gating editor before configuring an Illustration.    
To configure gates to display on plots in an Illustration, turn on the Show gates toggle from More plot settings, which can be accessed from Plots > More plot settings or by clicking on a plot and choose More plot settings from the pop window.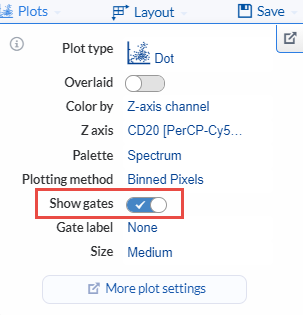 Check the gating interface to ensure the gate is drawn on the channels and settings that you expect. Next you have the option to display your desired Gate Statistic: None, Percentages, Event Count, or Gate Name from the Gate label setting.  
Note: when using colored overlay dot plots, gates can be shown but their statistic will not be shown. Create a support request to alert us if this is important for your workflow. 

 
Have more questions? Submit a request