There are several ways to navigate to the PeacoQC result page, after setting the PeacoQC process.
You can wait on the same page for the QC to be completed. You will be greeted with the message Analysis complete!.

Alternatively, you will receive an email with the subject Your PeacoQC analysis is complete. Click the link on the email that says View PeacoQC.

You can also access the results by clicking Actions -> View Summary on the top left corner of the blue navigation bar.
Once on the Experiment summary page you can click on the Pulse symbol on the left vertical tab or scroll down. The page would automatically scroll to the Data QC section. Click on your latest PeacoQC process to access the new QC result page.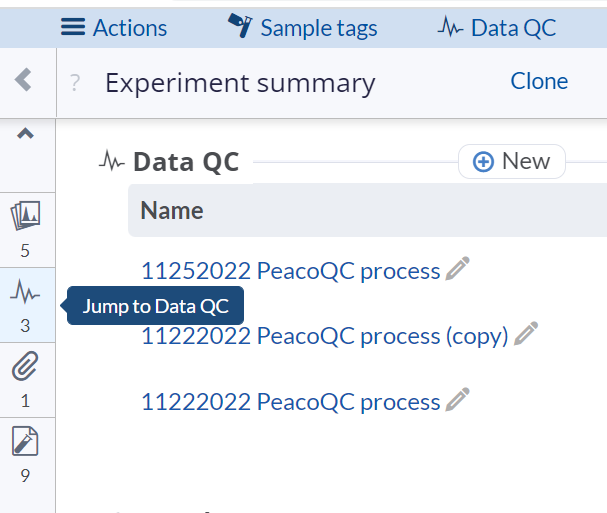 Once you reach the result page you can click on Download run info and plots to download the results on your hard drive and go through the results. Refer to our How to analyze PeacoQC results for further details on interpreting the results.
You can also click on copy settings option to create a new PeacoQC experiment. You can modify this new PeacoQC setting by modifying the options such as FCS Files, Channels, Algorithm Settings and Transformations. Please refer to the article How to set up a PeacoQC process to get help on how to start a PeacoQC process.
Once the PeacoQC process has run successfully, you can now perform other downstream, analyses, such as gating or advance analysis on your QC'ed data (now suffixed with _QC).
You will need to properly transform the data and, if appropriate, compensate or unmix the FCS files prior to running the PeacoQC process. For optimal PeacoQC results, these steps need to be performed correctly and, simultaneously, other conflicts also need to be addressed (e.g., marker name mismatch/missing in files) if they exist. If a PeacoQC process fails, there are informative error messages to help you to understand the cause of the failure. If the PeacoQC run fails, you will be informed about how many files failed vs. succeeded, and the names of the failed files, e.g., PeacoQC failed for 3 of 40 files.
In case of failure, please pay attention to the cause of failure, rectify it accordingly and set up another analysis. Or please reach out to Cytobank Support for further assistance.